The Power of Blush
admin
| Thursday, June 23rd, 2011 |
No Comments »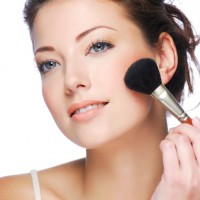 Rules that should be followed for a simple pretty blush flush
1. Keep it real, mimic a healthy glow, roses for light skin, apricots for medium skin and brick for dark skin types.
2. Finding the right consistency, Creme Blush, Gel Blush or Powder Blush, generally Creme formulations  for normal to dry skin, Gel for Oily skin and Powder for Normal to oily skin types.
3. Proper Placement, For a natural look place blush at the top of the apple of your cheek. Depositing most of the pigment where rosiness would show up if you had just ran down the beach. I always smile for a more exact placement on my cheeks.  Blend outward towards the ear.
4. Great Tools, For Powder blush a fan brush or a soft big angled brush. Gel or Creme blush your fingers are the best tools.
5. Powder Primer, If you are using a powder blush use a translucent powder to prime the face before applying powder blush. If you want a dewy look just powder the place where you will apply the powder blush.
6. Lasting Power, To prolong your cheek color all day, first apply creme or gel blush, powder the area with translucent powder then apply powder blush. The color should last for hours.
7. Rosacea, If you tend to over flush apply an opaque foundation. If Rosacea verges on purple, peachy or a soft bronze blush will counteract the redness. If your skin is more rosy look for a muted or peachy rose. For Truly red Rosacea, try a brownish rose.